Have you ever wondered that when pressing the power button on the Desktop, where does the signal go? The answer is that the power signal will be transmitted to the mainboard through a type of cable called Front Panel cable. Let's find out!
1. Front Panel cables
– Location: located on the inside front of the case.
– Function: connect the power button, reset button, hard drive light, power light to the mainboard.
– There are 4 types of Front Panel cables: Power Switch, Reset Switch, HDD Led, Power Led.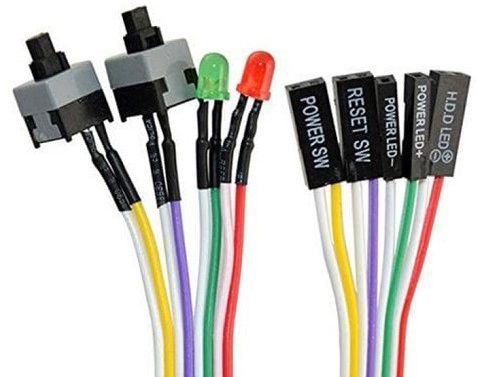 – Front Panel cables
HDD Led: signal cable for hard drive light
Power Led: signal cable for mainboard power light
Power Switch: signal cable to connect the power button
Reset Switch: signal cable to connect reset button

2. Front Panel pins on mainboard
Where do the front panel cables plug into the mainboard? Answer: front panel pins on mainboard.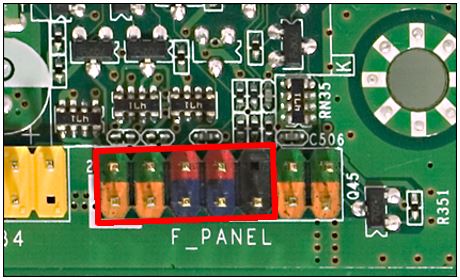 – Front Panel pins on the mainboard include 9 pins, usually denoted FP, FP_1, F_PANEL, JFP.
– At the foot of the front panel pins, there are symbols such as +MSG-, +HD-, +PW-, -RES+, NC (No Connection) or +PWR_LED-, +HDD_LED-, PWR_SW, RESET.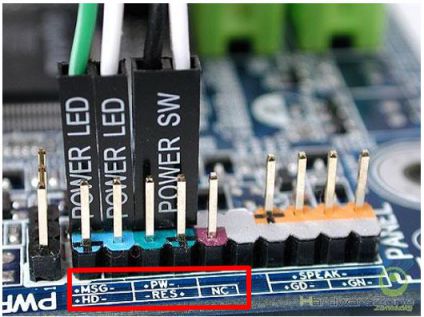 3. How to connect front panel cables to mainboard?
Pin 1, 3 plugs into HDD Led, pins 2, 4 plugs into Power Led, pins 5, 7 plugs into Reset Switch, pin 6, 8 plugs into Power Switch.

Notes when plugging the Front Panel cables into the Front Panel pins
You must plug the correct + and – pins for led cables (hdd led, power led). The + pin of the signal cable is usually a pin with a prominent color such as green, red, etc.
Reset Switch and Power Switch cables do not need to pay attention to the + and – pins, just need to be mounted in the correct location on the Front Panel.