1. Lesson objectives
Teach students how to use Hiren's BootCD to partition hard disk drive.
2. Introduce lesson content
Hard drive partition is the creation of one or more partitions on a hard disk drive, so that each partition can be managed separately. Refer to the article What is hard disk partition? How to partition hard disk drive? to read more.
With different purposes and storage capacity, users often divide the hard disk drive into partitions with smaller storage capacity in order to organize file/folder in the most reasonable way. The operations on partitions of hard disk drive are:
Partition format
Partition
Delete partition
Merge partitions
Change name the partition
There are many tools to partition such as Hiren's BootCD, EasyUS Partition Master, Mini Tool Partition Wizard,… This article will guide you to partition the hard disk drive using Hiren's BootCD.
3. Partition hard disk drive using Hiren's BootCD
Step 1 – Setup boot device from CD-ROM in BIOS.
Step 2 – In virtual machine settings, we setup Hirent's Boot CD 13.2 or Hirent's Boot CD 15.2 into CD-ROM.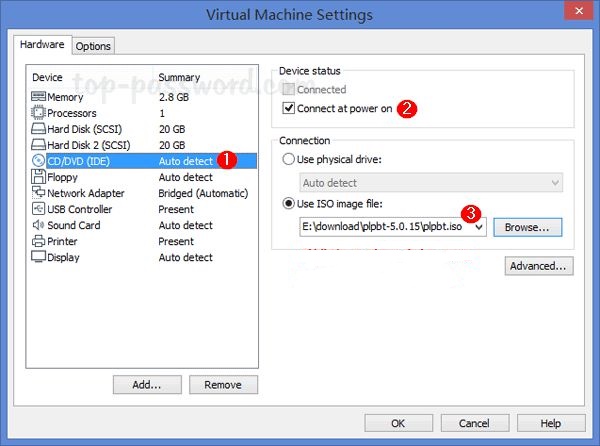 Step 3 – Start the virtual machine into the display mode as below image and then select Dos Programs.
Step 4 – Select Old's Dos to use Hiren's Boot CD.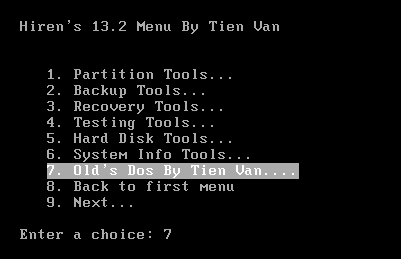 Step 5 – Select Norton Partition Magic Pro to partition the disk.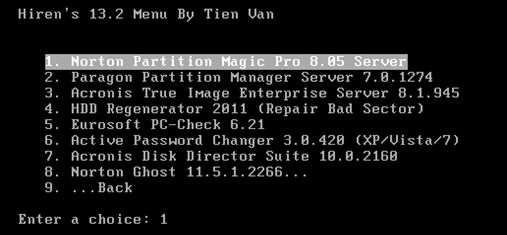 Step 6 – A list of hard drives in the virtual machine and we select the correct hard drive that want to partition.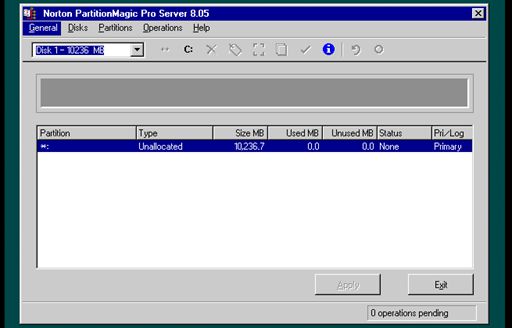 Step 7 – Right click to an empty partition with Unallocated status and then select Create to create a new partition. Set the configuration of the partition to be initialized.
– Create as: select partition as primary or extended partition
– Partition Type: choose partition type
– Label: label of partition
– Size: set size of partition
– Cluster size: set cluster size of partition
For example, create partitions as requirement of practice.
Step 8 – We need to press the Apply button to finish creating the partition.
4. File System and rename partition
File System: Right click to partition -> select Format -> enter OK to confirm the format. (Note: all data after formatting will be deleted).
Rename partition: Right click to partition -> select Label (Note: all data after formatting will be unaffected).
Merge partition: Select one of the two specified partitions to merge and then right click to select Merge.Folder Name is the label of the new partition containing the data of the merger two partition.
Some common errors when merging partitions:
– Difference in cluster size between two partitions to merge
We choose one of the two partitions and adjust the cluster size value to be consistent between the two partitions to be merged.
– Difference in NTFS version, adjust or reformat two partitions
Change size of partition: Click on the partition to be resized and then adjust the partition capacity value in the New size section.
5. Requirement of practice
Students create a virtual machine with the name formatted as Student ID with the following configuration parameters:
Operating system: Windows 10
RAM capacity: 2048 MB
HDD capacity: 100 GB
Processor: 1 CPU – 2 cores
BIOS timeout: 10 seconds
Choose boot device: CD-ROM
Using Magic Partition Tool to format and partition hard drive into:
System partition: 50 GB (Primary – NTFS – Set Active)
Private partition: 30 GB (Logical – FAT32)
Public partition: 20 GB (Logical – FAT32)
Format Private, Public partition to NTFS
Merge Private partition to Public partition with new label Personal
Adjust to resize size of Public partition to 15 GB
Create new partition on empty partition with label Social (Logical – NTFS)
Rename System partition to OS