1. Lesson objectives
Introduction to Front Panel cables, Audio and USB signal cables, data cables in Desktop
Correctly disassemble the Front Panel cables, Audio and USB signal cables and data cables
2. Preparation of instruments
Each student prepares the following tools:
Main tools:
01 Desktop case
01 screwdriver
01 screw box
Support tools:
01 computer cleaning brush
01 cleaning cloth
3. Front Panel cables
Front Panel cables located on the inside of the front of the case. They have the function of connecting Power Switch, Reset Switch, HDD Led, Power Led with the mainboard.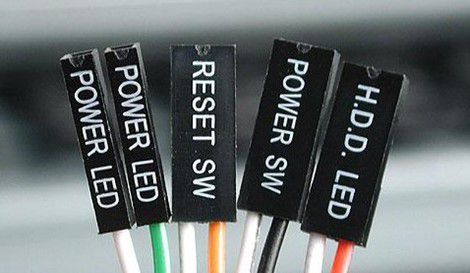 Depending on the manufacturer, the Front Panel cables have different colors. But they are clearly marked on the cables. For example, Front Panel cables in the image above will have the following color:
Power SW: black – white
Reset SW: orange – white
HDD LED: red – white
Power LED: green – white
The Front Panel cables will be plugged into the Front Panel pins on the mainboard. Front Panel pins on the mainboard include 9 pins, usually denoted as FP, FP_1, F_PANEL, JFP.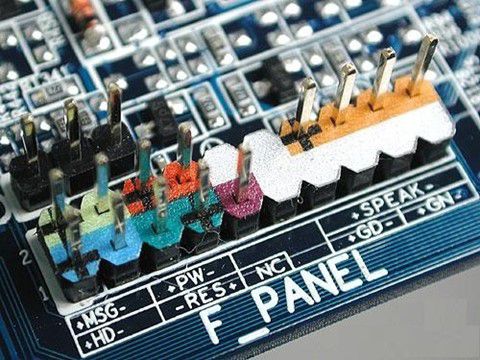 At the foot of the front panel pins, there are symbols such as +MSG-, +HD-, +PW-, -RES+, NC (No Connection) or +PWR_LED-, +HDD_LED-, PWR_SW, RESET. And how to plug the Front Panel cables into the Front Panel pins in the picture below.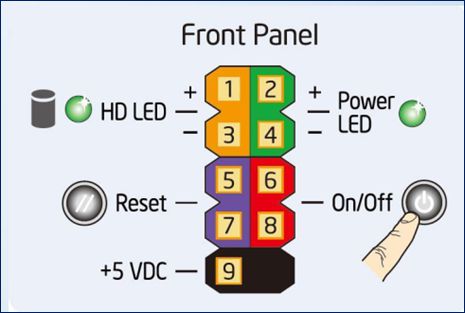 Notes when plugging the Front Panel cables into the Front Panel pins:
You must plug the correct + and – pins for led cables (hdd led, power led). The + pin of the signal cable is usually a pin with a prominent color such as green, red, etc.
Reset Switch and Power Switch cables do not need to pay attention to the + and – pins, just need to be mounted in the correct location on the Front Panel.
4. Signal cables
Audio signal cable
This cable transmits signal from Audio port to mainboard and vice versa. It located on the inside of the front of the case. Audio pins on the mainboard and Audio signal cable will also have a missing 8th pin.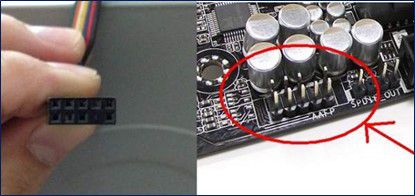 USB signal cable
Dây tín hiệu USB kết nối cổng USB ở mặt trước thùng máy với mainboard Desktop. Chân cắm USB và dây cắm USB sẽ có một chân khuyết (chân khuyết ở cuối hàng chân).
USB signal cable connects the USB port on the front of the case to mainboard. USB pin and USB signal cable will have a missing 9th pin.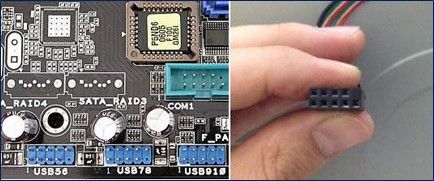 Speaker signal cable
Loa (speaker) có thế giúp kiểm tra xem RAM, CPU có bị lỗi khi khởi động không bằng cách phát ra các tiếng beep. Thông thường, chân cắm dây speaker gồm 4 chân nằm cạnh cụm chân Front Panel và khi cắm dây loa cũng không phân biệt cực âm hay cực dương.
Speaker pins consists of 4 pins located next to the Front Panel pins. When plugging in the speaker cable, it does not distinguish between positive and negative poles.

5. Data cables
ATA cable
ATA cable is used to connect storage devices with ATA standard physical interface to the mainboard. Connectors on an ATA cable have 40 pins, others 44 pins.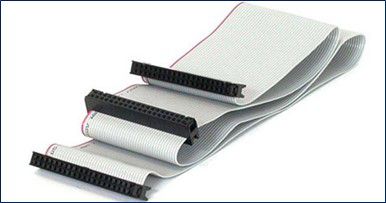 SATA cable
Serial ATA or SATA is a standard physical interface to replace for ATA. SATA has a transfer speed of 150MB/s or 300 MB/s, meanwhile ATA's maximum speed of 133 MB/s.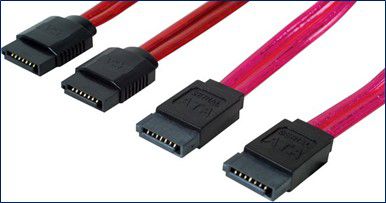 eSATA cable
eSATA (external Serial Advanced Technology Attachment) is a variant of the SATA for connecting to external storage devices with transfer speed equal to SATA.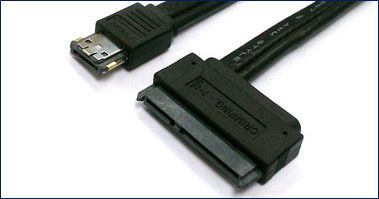 VGA cable
VGA (Video Graphics Array) is a standard physical interface for connecting to monitor. A VGA cable consists of 15 pins, plugged in 3 rows, each row of 5 pins.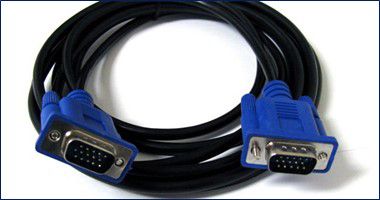 DVI cable
DVI (Digital Visual Interface) is a standard physical interface to transfer digital video content. This cable can transmit high definition (HD) video with a resolution of 1920×1200. The case of dual-link DVI cable supports video with a resolution of 2560×1600.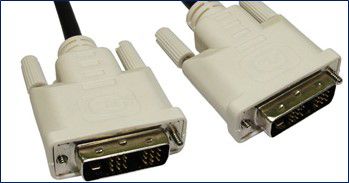 HDMI cable
HDMI (High-Definition Multimedia Interface) is a standard physical interface that allows the transmission of images and sound through a cable to a large projection screen such as a television while ensuring high resolution.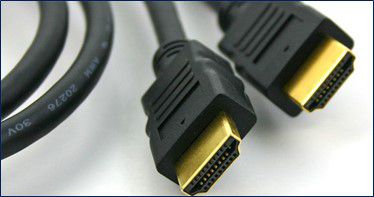 USB cable
USB is probably the most common type of connection in the world right now. Almost every peripheral device of the computer such as keyboard, mouse, external storage drive, etc. can be connected to the computer through USB port. There are different version of USB: USB 1.0/1.1, USB 2.0, USB 3.0 and variants like mini USB, micro USB.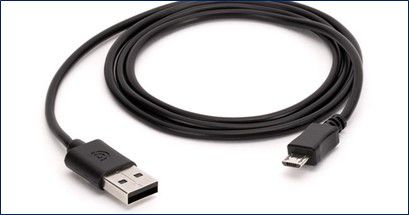 Ethernet cable
Ethernet cables are used to set up local networks. They are often used to connect network devices to each other or to computers.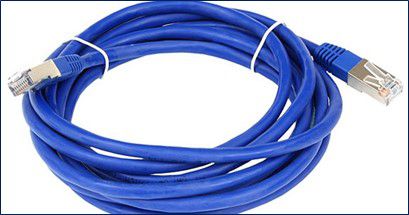 6. Requirement of practice
Each student receives practical tools.
Disassemble and rebuild the Desktop step by step and follow the regulations.
Identify and correctly disassemble Front Panel cables and data cables.
Complete the practice sheet for lesson 03.
Take pictures, record videos for documentation.
7. Practice sheet
Each student downloads the practice sheet here, photo it and bring it with you when you practice.